If you're a traveling nurse, you know that preparing for travel takes time and organization. Over the years, you'll gain experience in learning what essential items need to come with you on the road and what things are cumbersome and better not to bring. Thankfully, your beloved dog or cat doesn't have to be left behind. In this post, we'll discuss tips for traveling with your pet and explain how our travel nurse housing gives you the freedom to travel with a pet.
Pets on a Plane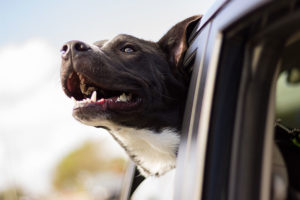 Traveling for a long distance to get to Willis-Knighton Medical Center? We've got you covered with tips for taking an airplane ride with your dog or cat.
Do your research before booking an airplane ticket or heading to the airport. Each airline with have different guidelines as to what types of pets are allowed on their planes and what specific things you'll need to bring along to prepare your pet for travel. Consider the following questions…
What size is your pet?
How old is your dog or cat?
Have you talked to the vet about plane travel?
What time of year will you be leaving?
Is your pet already familiar with travel or will this be a new experience?
What breed is your dog or cat?
In addition, you'll want to make sure you purchase a crate that protects your pet and ensure that he or she gets good ventilation and has a comfortable space in the carrier for sitting and moving around.
Traveling via Car with a Dog or Cat
Of course, getting to Shreveport via car is also a good option and gives you the most flexibility in traveling with pets. This offers a great way to travel together and even gives you a great excuse to stop for bathroom and stretch breaks. When taking your dog or cat along, make sure that he or she is properly secured in the car with an animal buckle / harness and DON'T ever leave the car with your furry friend still inside. When acclimating your pet to road trips, ease him or her into the idea of using a car and let your pet get familiar to the idea slowly. In addition, don't overfeed your pet before traveling just to prevent any possible car sickness.
Relax in Shreveport with our Pet-Friendly Travel Nurse Housing
Once you safely arrive at your destination, you and your pet can relax! Here at Shreveport-Bossier Corporate Housing, we want you and your dog / cat to feel right at home in our short term rentals. We offer fully furnished pet-friendly condos for your enjoyment. You'll appreciate the kitchen with large refrigerator, comfortable bedroom(s) with queen or king-sized bed and living area with leather recliners. Rest easy…being a traveling nurse doesn't mean you have to give up the companionship of your furry friend. Our travel nurse housing will help you adjust quickly to life in Louisiana! You can even check out the Shreveport Dog Park during your time here.
Sources: https://www.washingtonpost.com/travel/tips/questions-about-flying-with-your-pet-us-answered/, https://thepointsguy.com/guide/how-to-travel-with-pets/, https://www.humanesociety.org/resources/travel-safely-your-pet-car-airplane-ship-or-train, https://www.cdc.gov/importation/traveling-with-pets.html, https://www.travelandleisure.com/trip-ideas/pet-friendly-travel/how-to-travel-with-pets