One of the joys of summertime is enjoying the bountiful harvest that is in season this time of year. Fresh herbs, blackberries, blueberries, and homegrown potatoes to name a few! And, of course, who can forget the delicious combination of tomatoes, bacon and lettuce…always a winning sandwich. If you're considering a stay in Shreveport this summer at our Barksdale AFB housing, you may want to check out the local Farmers Markets for great-tasting produce. You and your family can enjoy a great outing and bring back some yummy eats for later!
Eating local, eating good in the Shreveport neighborhood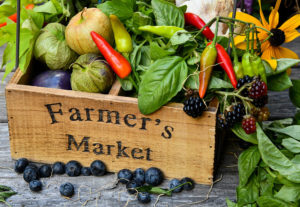 Need an early morning activity to get your weekend off to a great start? Check out these ideas for local family-friendly markets as well as a you-pick farm!
The Shreveport Farmers' Market is a great place to pick up some produce as well as lunchtime fare and other homemade items. It's located in the downtown area at 101 Crockett St.
Another option is the Bossier City Farmers Market, which is located in the Pierre Bossier Mall's parking lot.
If you and your family are down for a short road trip, head south to Lenox Acres in Keithville, LA. The berry farm is around 30 minutes from downtown Shreveport and features Muscadine grapes as well as blackberries and blueberries. Best of all, the kids will love being able to pick their own berries and can enjoy a popsicle on the farm afterwards.
Once you're back in the condo, you can employ your little helpers in the kitchen to make fresh, homemade fruit bars or cookies with the day's haul. Our fully furnished short term rentals feature everything you'll need to bake up those delectable treats, including a mixer with beaters, measuring cup & spoons, cookie sheet and more. Check out this link for some blueberry recipes or this link for a blackberry cookie idea.
As a side note, please keep in mind that these are only suggestions…we are providing these options as a convenience to our current and potential tenants! We don't specifically endorse any business listed. Also, please follow guidelines for social distancing while out and about. Shreveport Bossier Corporate Housing wants you to be safe!
Family fun while at Barksdale AFB housing
Life as a military family is tough, but it can be a lot of fun if you take time to enjoy the local scenery and benefits unique to each city you're stationed in. We want your stay in our southern city to be as comfortable and as much like a home-away-from-home that we can make it. Don't stress about bringing all of the household essentials with you…we've got you covered. Now get out and enjoy the sun!