Dogs and cats are the best entertainment. They can be like children and do funny, random things that make us all laugh. It's no wonder that pets have a special place in many hearts and homes around the world. Here at Shreveport Bossier Corporate Housing, we've made it easier for your pet to come and live with you while your family lives in our Barksdale AFB housing. Military life can be stressful and crazy, but that just means you need the loving support of a family pet even more!
What to do when your dog gets sick?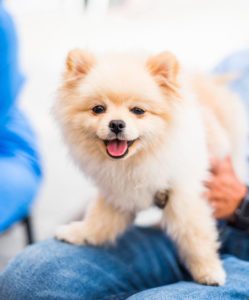 Life on the road can make caring for a pet more difficult, especially when your canine or feline friend is sick. Some common ailments for dogs and/or cats include skin problems, upset or other stomach conditions and urinary tract infections.1 Fido may not be able to speak English, but you'll know when he isn't feeling well. After all, excessive scratching and red spots on the skin are pretty good indicators that something is irritating him.2 For a cat, Feline Lower Urinary Tract Disease may be an issue if your furry pet is having difficulties with relieving herself.3 Vomiting may also be an indicator of internal issues, but it could be caused by something as simple as eating too quickly or as serious as cancer.4
Whatever the health concern, having a local Shreveport-area veterinarian to call or take your pet in to see can be very helpful. Here are a few possible options:
Please keep in mind that these vets are only suggestions…we are providing these options as a convenience to our current and potential tenants! We don't specifically endorse any business listed. Also, please follow guidelines for social distancing while out and about. Shreveport Bossier Corporate Housing wants you, your pet and your family to be safe, happy and healthy!
Barksdale AFB housing solutions for the whole family
If you're looking for short term rentals in Shreveport or Bossier City, consider our condos for your Barksdale AFB housing needs. Don't worry about bringing along all the linens, silverware and other household essentials while traveling…we've got you covered! Our fully furnished condos come complete with an equipped kitchen area (including everything from pots & pans to a mixer, Keurig and more), comfortable living area with leather recliners and washer / dryer units for laundry day. We have pet-friendly rentals, so your dog or cat can live with you in Shreveport. Life is good here in Louisiana…come eat, sleep, work, relax and enjoy time here with your pet and family.
Sources: https://www.yelp.com/search?cflt=vet&find_loc=Shreveport%2C%20LA&sortby=rating, https://www.google.com/search?q=vet+offices+shreveport+la&npsic=0&rflfq=1&rlha=0&rllag=32462650,-93725549,3395&tbm=lcl&ved=2ahUKEwjTqpHj_8XqAhUBJKwKHRyOAPsQjGp6BAgLEEY&rldoc=1#rlfi=hd:;si:;mv:[[32.6014998,-93.6841546],[32.341286,-93.871279]];tbs:lrf:!1m4!1u3!2m2!3m1!1e1!1m4!1u2!2m2!2m1!1e1!2m1!1e2!2m1!1e3!3sIAE,lf:1,lf_ui:2, (1) https://todaysveterinarypractice.com/top-10-reasons-why-pets-see-a-veterinarian/, https://blog.nationwide.com/news/reasons-to-take-pets-to-the-vet/, https://www.veterinarypracticenews.com/top-10-vet-visit-reasons-for-dogs-and-cats/, (2) https://www.gcvs.com/2018/04/common-skin-problems-dogs-how-veterinarian-help/, (3) https://pets.webmd.com/cats/guide/cat-urinary-tract-problems#1, (4) https://www.petmd.com/dog/conditions/digestive/different-types-dog-vomit-and-what-they-indicate