Happy Independence Day! The Fourth of July is a special holiday for Americans and is usually accompanied with fireworks, family / friends and some variation of summer foods such as watermelon, sweet corn, BBQ, grilled hamburgers and hot dogs, ice cream and the like. It's a celebration of freedom and of our shared history here in the United States. Yes, there is much to be thankful for. Here at Shreveport Bossier Corporate Housing, we are thankful for our wonderful tenants and look forward to serving new renters with our exceptional fully furnished housing solutions.
How does corporate housing make life easier?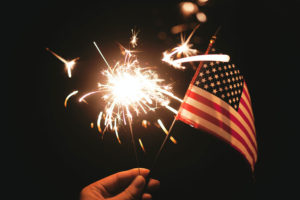 Since it's the weekend of July 4th, we thought we'd share a few ways that our corporate housing helps give you more freedom when you're on the go. Nifty, huh?!
Corporate housing is designed with the business professional in mind. True, we welcome renters from many walks of life (including those seeking travel nurse housing or Barksdale AFB housing). But executives looking into the Shreveport area will especially appreciate the amenities we offer that allow them to work in the condo itself. These extra details include a desk area with chair as well as a HP or Epson printer. No need to worry about trying to find a local FedEx Office for printing that business agreement!
If you choose to rent a condo from us, you'll have the option to choose a long term or short term rental agreement. If you compare a month-long stay in a hotel with a fully furnished corporate housing solution, you're saving money with us. After all, who wants to stay in a hotel for a month or more anyway! Why not choose an option that gives you more room and is more comfortable.
Ditch the restaurant eats and make dinner at your new home-away-from-home. Not only do you have the option to make anything you want to eat, you also can eat whenever you want (handy if you're a night owl and need a late-night snack). In addition, you'll have the freedom to easily cook for any special dietary concerns and can make sack lunches for taking with you during the day. Our kitchen area is complete with measuring cups, pots & pans, skillets and even a Dutch oven with lid. Forget the stress of bringing household items from home…we've got you covered.
In conclusion, our team at Shreveport Bossier Corporate Housing wishes you a safe and happy holiday weekend. We hope you'll consider our condos for your business travel or other short term rental needs. Our housing solutions give you a step above a hotel room and offer you the freedom to live like you're at home while here in Louisiana!