It's Mardi Gras season, which means there are plenty of entertainment options here in Shreveport and the surrounding area! If you're looking for an excuse to relax after a long work week or just want to enjoy some good food, you're in luck. Check out our post for info on Mardi Gras 2020 and for several key reasons why you'll benefit from our fully furnished short term rentals in Louisiana.
What is Mardi Gras?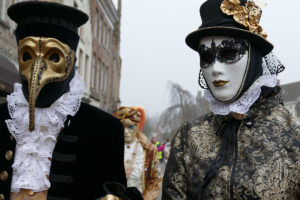 The term "Mardi Gras" comes from the French for "Fat Tuesday" and has ties back to the Catholic / Christian tradition of celebrating with a feast before Lent.1 Today, Mardi Gras season is celebrated around the world and in the United States (especially the states / cities with cultural French connections).
The State of Louisiana has a fascinating history and New Orleans has been the host for large, flamboyant parades since the early 1800s.2 But New Orleans isn't the only city that knows how to party!
Schedule for 2020 Events in Shreveport
February is a busy month for parades, masked balls and parties of all kinds. After all, the last day of the season is February 25th, 2020! Don some purple, green or gold (classic Mardi Gras colors!) and head out to enjoy some of these upcoming parades:
Upcoming Parades
The Krewe of Barkus and Meoux Pet Parade will be on February 9th and, as the name implies, prominently features dogs and cats throughout the festivities.
Looking for an alternative event on Valentine's Day weekend? The Krewe of Centaur Parade will run through downtown Shreveport on February 15th…you don't want to miss this massive event.3
The weekend before Fat Tuesday features two parades…the Krewe of Gemini and Krewe of Highland Parades on February 22nd and 23rd, respectively.
Don't forget about the Fat Tuesday Children's Parade on February 25th! This parade will be located in nearby Bossier City.
Other Local Events
But that's not all! If you'd rather dance the night away than stand outside, you'll probably enjoy one of the many Grand Bal events during the upcoming weeks. Check out the links below for more information and here for a full guide of the local events.
Want to enjoy some traditional delicacies? Shreveport's local restaurants boast a wide variety of yummy food, including King Cake, Beignets, Bread Pudding, delicious Po'Boys and more.
Mardi Gras definitely is a not-to-be-forgotten experience. Although many of the events are geared towards adults, the City of Shreveport LA works hard to ensure to create a family-friendly atmosphere for its Mardi Gras celebrations. If you're concerned about whether or not to take your children to an event, do some research beforehand and call ahead ask if kids are allowed / encouraged to attend. At the very least, hire a babysitter to come and stay the evening while you go out and party it up!
Benefits of our Fully Furnished Short Term Rentals
While you're out on the town, your babysitter will appreciate the attention to detail in our fully furnished short term rentals. Your kids can relax in front of the HDTV and enjoy some snacks prepared by an adult in our large, fully equipped kitchen. Each of our housing solutions feature a kitchen with a stove, mixer, microwave, mixing bowls, utensils and more. Don't want the babysitter to use the kitchen? No worries! He or she can help you do the laundry instead. We offer washer & dryer units in each rental for easy clothes cleanup.
Sources: https://www.shreveport-bossier.org/mardigras/parade-dates/, https://www.louisianatravel.com/articles/mardi-gras-shreveport-bossier-city-monroe-ruston, https://www.sbfunguide.com/events/mardi-gras/, https://www.shreveport-bossier.org/mardigras/, https://www.shreveporttimes.com/story/entertainment/events/mardi-gras/2019/12/10/mardi-gras-2020-parade-schedule-fat-tuesday/2623879001/, https://assets.simpleviewinc.com/simpleview/image/upload/v1/clients/shreveport/SBCTB_MardiGrasGrisGrisGuide2020_Web01_07_2020_ea69f84e-e587-4066-97d6-3270ce3a2f63.pdf, (1) https://en.wikipedia.org/wiki/Mardi_Gras, (2) https://theculturetrip.com/north-america/usa/louisiana/articles/a-brief-history-of-mardi-gras-in-new-orleans/, (3) https://www.sbfunguide.com/event/krewe-of-centaur-parade-xxix/9206/