Imagine a warm summer afternoon by the lake. You're relaxed, sitting in a comfy lawn chair and lazily daydreaming about what you'll make for dinner that night. It'll probably be fish, you think. That is, if they're biting! All of a sudden, the bobber dips down and jerks around. You're on your way to catching a fish at Caddo Lake near Shreveport! And, since you have a fully furnished housing solution and rent direct from owner, you'll have an easy dinner in no time at all.
What Lakes are near Shreveport?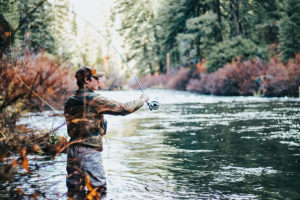 Fishing is a prime activity for weekend fun in the Shreveport-Bossier area. If you're a brand-new angler or a seasoned pro, check out the following options for catching some delicious fish while staying at one of our short term rentals in the area.
Caddo Lake – As we've already mentioned, Caddo Lake is an excellent option for fishing. The 25,400 acre lake and wetland area1 is less than an hour's drive from Shreveport and features trophy largemouth bass as well as catfish and many others. Canoeing is a perfect way to get closer to good fishing areas and enjoy the beautiful Cypress trees. You'll be sorry if you miss out on this lake!
Cross Lake – Another nearby option is Cross Lake, which, at just over 8500 acres is much smaller than Caddo.2. However, you still can enjoy a good day's work and great haul here. Or, if you're wanting a more leisurely weekend, hang out on Cross Lake at the Shreveport Yacht Club and eat dinner there.
Red River – A river runs right through Shreveport-Bossier city and it's…you guessed it…the Red River! Bass fishing is fine on the river and has even been the site for two previous BASSMasters Classic tournaments.3. Other fun outdoor activities include birding (thanks to the Red River National Wildlife Refuge) and mountain biking.
Toledo Bend – I'd be amiss if I didn't include this fishing option on the list! In addition to largemouth, white and striped bass, you can also find specimens including sunfish and catfish.4 Like other lakes in the area, Toledo Bend provides great overgrowth that fish can hide under…which means anglers like you just might stir up a giant catch!
Rent Direct from Owner & Enjoy Peace of Mind
Now that you're sold on the idea of coming to fish in the Shreveport area, you'll need to find a place to stay. Debi's corporate housing solutions are a perfect option. You can rent direct from owner and will benefit from an equipped, well-maintained home away from home. Debi cares about her renters and ensures that each rental is clean and fully furnished for all your needs. You can store your fish in the large refrigerator and cook it up on the stove with our pots and pans. So, why not come to Shreveport? Rent direct from owner and win. Set the table for dinner and let's eat!
Sources: https://sbmag.net/adventure-awaits-great-outdoors/, https://www.shreveport-bossier.org/things-to-do/outdoor-recreation/lakes-bayous-rivers/, https://mykisscountry937.com/5-best-fishing-lakes-around-shreveportbossier/, http://caddolakefishing.com/report.htm, https://www.bassresource.com/bass-fishing-forums/topic/208134-whats-the-best-bass-fishing-lake-around-shreveport/, https://www.louisianasportsman.com/fishing/bass-fishing/river-run-catch-more-bass-on-the-red-river/, https://blog.columbia.com/caddo-lake-anglers-fishing-bucket-list/, (1) https://en.wikipedia.org/wiki/Caddo_Lake, (2) https://en.wikipedia.org/wiki/Cross_Lake_(Shreveport,_Louisiana), (3) https://www.louisianatravel.com/articles/fishing/river-bass-have-anglers-seeing-red, (4) https://tpwd.texas.gov/fishboat/fish/recreational/lakes/toledo_bend/