Ah, the joys of a clean home. When renting out a corporate housing solution, it's important to enjoy the benefits of your condo. After all, a fully furnished rental means that you don't have to bring all the kitchen pots and pans with you! Of course, you'll need to take care of the dishes, but we provide a dishwasher to help with that!
Yes, it may take work to pick up around the house after a long day, but cleaning up regularly will help to create a safer, happier environment for loved ones to live, eat, sleep and play. When you're preparing to move out and leave the Shreveport area, keep in mind the below tips for cleaning things up.
What should I do? Tips for cleaning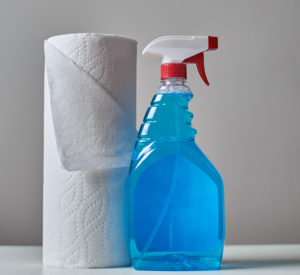 Check with your landlord when you rent the home what the expectations are for cleaning when moving out. Clarify any responsibilities you have questions with…it's best to know beforehand.
Go through your own things and purge what you don't need before moving back to your permanent home or on to another city. Over time, it's easy to fill up the fridge, buy extra clothes and get more books or toys for the kids. But does it all need to be lugged on to the next rental? Now is a great time to review what you have.
If someone was staying in your home, you'd want them to take care of your things, right? Based on what your landlord and the rental agreement says, take time to deep clean the condo. This may include the following:
Make sure nothing is missing that needs to stay with the house.
Cleaning out the refrigerator, washing all the dishes, scrubbing the stove and taking out the trash.
Washing bed linens / towels and making the bed(s).
Sweeping and washing the floors as needed.
Cleaning the bathtub, sink and toilet.
Dusting surfaces and / or wiping them down with Lysol or a disinfectant cleaner.
Looking for Bossier houses for rent? Check out Shreveport Bossier Corporate Housing
Here at Shreveport Bossier Corporate Housing, we work hard to prepare each condo / house for new renters before they arrive. Debi owns each of her properties and takes pride in her fully furnished short term rentals, which provide a great temporary home for nurses, medical professionals, families at Barksdale Air Force Base, business employees and more. You'll appreciate the clean, family environment.
Sources: https://www.zumper.com/blog/the-move-out-clean-out-what-you-actually-need-to-clean-before-vacating/, https://www.apartmentguide.com/blog/how-to-clean-for-move-out/, https://www.mymovingreviews.com/move/moving-cleaning-checklist/, https://www.apartmenttherapy.com/move-out-cleaning-checklist-to-get-your-deposit-back-175617