Ah, Christmas shopping. For some, looking through the stores to find the perfect gifts for loved ones is exhilarating, especially if items are on sale. But others tend to procrastinate and / or shop online to beat the long lines and busy parking lots. It makes sense, doesn't it?! After all, shopping can be stressful. If you're relocating to Louisiana, looking for houses for rent in Shreveport LA can feel like searching for those elusive Christmas gifts. We're here to help.
Shopping in Shreveport-Bossier City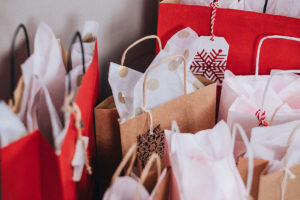 If you're new to Shreveport, you'll have a plethora of shopping malls in the area to choose from, including the Pierre Bossier Mall and Shoppes at Bellemead. But what about supporting local merchants with the "shop small" movement? We've got you covered. Head out to the Mistletoe Mile on December 13th to find more gifting treasures.
Online shopping sound better? Curl up in the living room in front of our HDTV with some milk and cookies (baked in your fully furnished rental house's kitchen stove!). First, enjoy a good classic movie. Then, pick up your laptop and sit at the table or stay in the leather recliner to shop away the afternoon. You'll enjoy an easy way to snag those must-have steals of the season.
Other Christmas Events in the Shreveport Area
Tired of all that shopping? This weekend, the Shreveport area is playing host to themed events such as:
Christmas in Roseland – You'll be walking in a winter wonderland in this beautiful garden, decorated with lights and filled with activities for the family.
Christmas in Candyville – Runs December 13th-15th and features Mrs. Claus!
Bossier Night Market – Okay, okay, so technically this is a shopping event. However, since it also boasts food trucks and live music, we're placing it on the events list. 🙂 You don't want to miss this extravaganza on December 14th, conveniently located at the Pierre Bossier Mall!
Houses for Rent in Shreveport LA
Now that we've fully discussed shopping for gifts, let's get to the houses for rent in Shreveport LA. Shreveport Bossier Corporate Housing offers long term and short term rentals that help renters feel like they are living at home. We proudly serve business travelers, families, travel nurses and military personnel stationed at Barksdale AFB, among others!
Don't feel stressed about Christmas shopping this year…whether you're looking for stocking stuffers or a two-bedroom condo to rent. Shreveport's a great town to live in and has a wide variety of housing (and shopping!) options to meet your needs.
Sources: https://www.shreveport-bossier.org/things-to-do/shopping/malls/, https://www.holidaytrailoflights.com/shreveport-bossier, https://www.shreveport-bossier.org/listing/shoppes-at-bellemead/1180/, https://www.shreveport-bossier.org/listing/pierre-bossier-mall/1490/, https://www.shreveporttimes.com/story/life/2019/11/13/shreveport-bossier-city-christmas-shopping-events-retail-markets/2562991001/, https://www.shreveport-bossier.org/holidays/, https://www.facebook.com/events/444349492945193/, https://www.rose.org/christmas-in-roseland, https://www.sbfunguide.com/event/christmas-in-candyville/9236/, http://www.bossiernightmarket.com, https://www.facebook.com/bossiernightmarket/, (1) http://www.silverbellsinthecity.org/silver-bells-lyrics