Sometimes the best thing for your health is to do nothing. No, that's not exactly true, but sleep is super underrated. As a medical professional, the value of good sleep goes up exponentially after long, hard days at Ochsner LSU Health Shreveport Hospital or another nearby hospital. In this post, we'll discuss some benefits that our travel nurse housing offers for healthcare workers as well as some tips for forming healthy sleep habits.
Tips for better sleep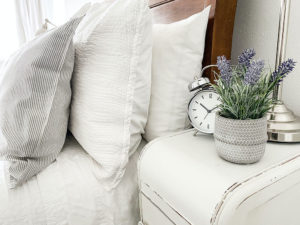 Working a long 12-hour shift? Do you sleep during the day and work the night shift? These facts of life as a nurse can make it hard to get good sleep. However, with a strict schedule and a few healthy habits, you can improve your daily routine.
Wash your sheets often. Say what? It sounds weird, but washing your sheets may help your body relax and you get to sleep quicker.1
Take a relaxing bath shortly before bed. A warm, soaker bath sounds amazing, right?! It'll help your muscles relax and help you unwind after the day's responsibilities. Our rentals feature a bathtub and shower, so you'll have whichever option you prefer.
Read a book before bed. Low-tech is the way to go. Set a routine of reading before bed and your body will start associating the activity with sleep.
Very important…set a consistent sleep / wake schedule and keep to it. No more details needed.
Do you crave something to eat at night? Try making a cup of warm milk and honey to drink. Check out this recipe or create your own favorite concoction.
Buy a good eye mask to help block out the light. This is especially helpful if you work the night shift. Check out this article for some reviews of eye masks.
Use a room air purifier and a sound machine. Did you know that our travel nurse housing comes complete with these valuable sleep aids? Yes, they do!
Of course, general healthy eating and exercise habits will also help your sleep quality. Make sure to eat lots of nutritious food during the day and to drink plenty of water during your shift.
Travel nurse housing in Bossier City
Debi's fully furnished travel nurse housing is a comprehensive option for nurses on the go. Our condos and homes offer comfort, convenience and the thoughtful touches of someone who owns her own rentals. If you're looking for medical student rotation housing or a relaxing place to sleep and live, choose Shreveport Bossier Corporate Housing. You won't regret it. Sleep well!
Sources: https://www.travelnursing.org/five-tips-better-sleep-as-a-travel-nurse/, https://www.thegypsynurse.com/blog/better-sleep-health-tips-for-travel-nurses/, https://rnnetwork.com/blog/how-to-get-sleep-you-need/, https://travelnursesource.com/notes/4-sleep-tips-for-travel-nurses, https://www.hosthealthcare.com/blog/12-travel-nurse-tips-to-prepare-for-night-shift/, (1) https://www.sleepfoundation.org/bedroom-environment/smell/fresh-sheets-better-sleep