Stress baking has become a new pastime for Americans as we face the challenges associated with Coronavirus and extended periods of time at home. Essentially, stress baking can help calm anxiety as you work to create something delicious. For healthcare professionals, baking or cooking can be a welcome change from the chaotic hospital. Each of our travel nurse housing units feature a fully equipped kitchen with all the utensils needed for a relaxing afternoon away from work.
Nurses can escape the hospital with these simple recipes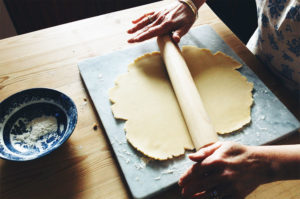 Looking for a simple recipe that is healthy and enjoyable? How about homemade granola! You can customize pretty much everything about granola and still not go wrong.
Homemade Granola Recipe
1/2 cup honey
1/2 cup peanut butter
Several cups of oats
1 to 2 cups of almonds or other nuts
1/4 cup dried cherries or another dried fruit
1 cup flaked coconut
Let the oven preheat to 300 degrees Fahrenheit. Measure out the honey and peanut butter into a glass mixing bowl and microwave on high for 30-45 seconds (enough to melt the peanut butter. Mix these ingredients together fully. Add the oats first, then the flaked coconut and almonds until the mixture is slightly sticky but not gooey.
Get out your cookie sheet and grease it. Use the back of a greased spoon or the back of a measuring cup to press the oats mixture into the cookie sheet. This process will help the granola to clump together. Put the sheet in the oven and bake. Check back every 10 minutes until the mixture starts to change color and looks a little crispy around the edges. It takes around 30 minutes or so to bake.
Once the mixture comes out of the oven, use a fork to break apart the mixture into large clumps. Be careful not to break it up too much…you only want to stir the mixture once before it cools. Otherwise, it'll all fall apart. While the granola cools, get out the dried fruit and chop into small pieces. You can mix this or other ingredients like chocolate chips or M&Ms in with the oats when they are cool. Enjoy!
For more recipe ideas, check out the Food Network or AllRecipes websites. Why not make a yummy batch of cookies with the kids? Or, make some simple snacks to take to your co-workers at the hospital. Looking for an excuse to eat your worries? Try a new recipe and bake a 3-layer cake or French pastry.
Of course, if you'd rather watch other people bake instead of spending time in the kitchen yourself, curl up in one of the leather recliners and enjoy shows like The Great British Baking Show or America's Test Kitchen on your HDTV.
Our travel nurse housing can help you relax after a tough day
We are all going through unprecedented times right now. You and your loved ones deserve a stress-free afternoon doing something fun. Our travel nurse housing can bring cheer into your work week by enabling you and your family a place of respite from the outside world. Whether you're working at nearby Willis-Knighton Medical Center, Ochsner LSU Health Shreveport Hospital or another healthcare facility in the Shreveport LA area, we applaud you and want you to enjoy our home-away-from-home.
You can't enjoy stress baking in most hotel rooms, but you can in our travel nurse housing solutions. Looking for a place with a mixing bowl, Keurig machine, stove, full-sized refrigerator and more? We've got you covered. Give Debi a call today!
Sources: https://www.eater.com/2020/3/13/21179255/people-are-stress-baking-to-cope-with-coronavirus-covid-19-quarantine, https://www.delish.com/food/a31669795/stress-baking/, https://www.wired.com/story/why-stress-baking-and-cleaning-make-you-less-anxious/