When your job is stressful, sometimes the best way to help your body process the built-up tension from the day is to sweat it out with exercise. Even if you can't go to a fitness center, you can still use home workout equipment or, better yet, get outside! In this post, we'll discuss some fitness options in the Bossier City area for families using Barksdale AFB housing.
Exercise Options for the Home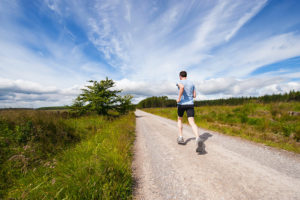 We get it…exercise can be more of a chore than a joy. But nobody wants the extra pounds. Even though military families travel a lot, there still are home workout solutions that can easily pack into the car and go with you wherever you happen to be. Here are some options:
Hiking Trails and Parks near Bossier City
Of course, Bossier City LA has lots of great hiking trails and parks where you can get some exercise outdoors. Check out AllTrails.com for ideas including the Arthur Teague Trail and the Red River Orange Trail (both "easy" trails). Or, if you're looking for a "moderate" hiking option, you may want to consider the Stoner Trail in Shreveport.1
Parks in Bossier City include the Betty Virginia Park, the Red River National Wildlife Refuge and Southern Hills Park, among others.2 These parks have walking trails where you can take in the fresh air and stretch your legs. Don't underestimate the power of a walk outside. Even if you don't need the exercise, you'll appreciate the opportunity to clear your head and enjoy the peaceful outdoors. Have a dog? No problem! Many of our Barksdale AFB housing solutions are pet-friendly and, when you and your dog need a break, check out Shreveport Dog Park.
Our Barksdale AFB Housing in the Shreveport Area
Wherever you choose to exercise, please know that we want you to feel at home while you're here in Bossier City. Our Barksdale AFB housing offers fully furnished solutions for your family. You'll enjoy our kitchen with all the utensils and cooking equipment needed to make healthy, nutritious meals for your loved ones. In addition, all of our condos have washer and dryer units for your convenience. Come, recharge and live, work and play in Shreveport.
Sources: https://www.alltrails.com/us/louisiana/bossier-city, https://www.webmd.com/fitness-exercise/features/how-to-stretch#1, https://www.travelandleisure.com/trip-ideas/yoga-wellness/best-exercise-equipment-for-travelers, (1) https://www.alltrails.com/explore/us/louisiana/bossier-city, (2) http://www.arklatexweekend.com/10-best-parks-in-shreveport-bossier/