These past days have been crazy, right! Life has definitely looked different for many people. That's why we've come up with a list of activities for children to enjoy with their parents while home-bound. Our Barksdale AFB housing solutions offer a comfortable place for families to escape the stress of the world and to reconnect with their loved ones.
Activities for Children at Home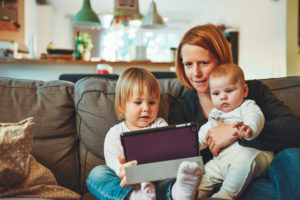 Military families face a lot of pressure on a regular basis. It's important for children to feel safe and protected in the home. Our activities below offer fun opportunities for kids while at home that also encourage educational achievement.
Craft Projects – Look around the house and make an inventory of what leftover items you have. Maybe some scraps of paper, popsicle sticks or a few tin cans from the kitchen? That'll work! Your kids will love making tin can telephones, popsicle stick picture frames, animals and more.
Grab some Elmer's Glue and markers from your local Walmart and let your imagination run wild. If you have older kids, let them make a few shelves out of popsicle sticks or work with them to put together that family scrapbook you've always wanted to get done. Not only will they learn family history, they'll also benefit from learning elements of design such as color, space and shape.1
Check out Highlights.com and HappinessisHomemade.net for more crafting ideas.
Gardening – What's more therapeutic and educational than growing your own food?! First, you'll want to get a small terracotta pot or even a paper egg carton to plant some herbs, tomatoes or other vegetables with the kids. Next, you'll need to purchase some seeds and quality soil from a Lowes, Home Depot or Walmart Garden Center. Once that's done, sit down with the kids at the table and teach them how to fill the container(s) with dirt and gently place the seeds inside. Talk to them about how water and sunlight will help the plants grow. You may even want to get into a discussion about photosynthesis!
Play with the Pets – Of course, pets are a great way to unwind and enjoy some comic relief. The kids can even work with your dog or cat to try and teach them tricks and obedience. Many of our Barksdale AFB housing solutions are pet-friendly because we know that there's a special bond between people and their furry friends.
Reading – Don't forget reading at home! If your child loves to read, help get him or her set up with some digital books to enjoy. Overdrive has lots of eBook resources available for use. Or, maybe your child is too young to read or doesn't like it yet. In that case, what's better than having Mom or Dad read a favorite story to the family?! In addition, websites like Storyline Online feature videos of famous actors reading aloud.
Cooking Lessons – Life skills like making homemade bread or chocolate chip cookies are invaluable. Your Barksdale AFB housing solution is fully furnished and features a kitchen complete with all the essential tools needed for a fun afternoon cooking and / or baking. Your children will love learning how to make food and will have the added benefit of learning science (yeast makes bread rise, certain temperatures are needed for killing bacteria in meat etc) and math by using fractions to measure out ingredients.
Science Projects – Did you know you can have a "laboratory" at home? Yes, it's true! Make sure to put down a plastic tarp or plastic bags to reduce mess, but you'll love experimenting with your children and learning fascinating facts about science. Check out PrepScholar.com for a cool "tornado in a jar" and many other ideas.
In conclusion, you can have so much fun with your children at home in Shreveport LA. Our Barksdale AFB housing options make it easy for you to spread out while still connecting as a family. Don't let the news media or the stress of life in the military get you down. Have fun together!!
Sources: (1) https://creativemarket.com/blog/10-basic-elements-of-design