As the name of this post implies, fully furnished short term rentals are a much better option than hotels. Why stay in a small, cramped space for a month or more when you can stay in a home? There's no comparison.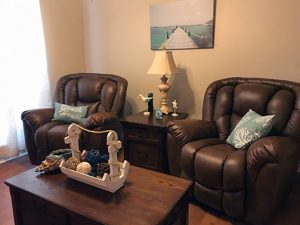 I could end the post here since my point is made, but let's take a little more time together to fill out the details regarding what exactly fully furnished short term rentals are. Often called "corporate housing," this type of rental is complete with a kitchen (stove, mixer, microwave, coffee maker, full refrigerator etc), 1-3 bedrooms, comfortable living room area (with HDTV and leather recliners!) and dining table. And, if you're an executive in town with employees who frequently need to visit your home office, you'll want to consider a short-term housing option like this as a cheaper alternative to providing hotel rooms for them.
There's lots to do in Shreveport!
The Shreveport / Bossier City area is a booming "big small town." There's lots going on here! For example, the State Fair of Louisiana is currently going on in Shreveport (learn more here) and is great fun for the whole family. Music lovers will appreciate the upcoming concerts Shreveport boasts featuring artists like Willie Nelson, Trace Adkins and more (info here). For business owners, the Shreveport area is a comfortable, affordable place to live and work. It's perfect for small businesses just getting started or for larger corporations that want to expand into a growing town without breaking the budget in a higher-rent area of the country like Denver, San Francisco or Austin, Texas.
But corporate housing isn't just for business owners. Fully furnished short term rentals can be appropriate for a wide variety of individuals.
Military families who want to stay near Barksdale Air Force Base
Travel nurses staying in Bossier City for a few months
Medical students on rotation at Ochsner LSU Health Shreveport Hospital
Individuals who brought a dog with them and need more space for their pet to roam in while at their "home away from home."
Families or individuals who have relocated to Shreveport for whatever reason but don't want to purchase a home yet
Missionaries who have rotated home for a few months before going back overseas
Displaced families who are unable to stay in their home due to water damage, natural disaster etc
Writers who need to escape for a month or so to retreat to a quiet place and think
Yes, if you're looking for someplace to stay longer than a few days, you may just want to consider a short-term rental option. When you rent with us, you'll be working directly with Debi, who owns each of her properties.
She takes pride in maintaining her homes and condos at a high standard. You also won't need to worry about paying all kinds of bills (water bill, electric bill etc) since that is all included in your payment.
Sources: https://www.shreveporttimes.com/story/news/local/2015/05/13/wallethub-startup-business-cohab-nlep-dda-shreveport/27230027/